Papers
We have many types of paper to choose from for any paper based play money item. You can choose a paper size/type/weight/color for each denomination face value in your order. Browse the available papers groups by type and weight below.
Size - Width and Height of the paper. The majority of our papers are 8.5" x 11", but we offer a limited selection of 8.5" x 14". Any paper based play money can be scaled to a maximize size that would fit at least one item on the selected paper size (minus printer margins). For example, monoply bills could be scaled to 10" x 5" on 8.5" x 11" papers.
Type - Groups of paper with the same feature, choose from the left hand menu below.
Weight - The thickness/regidity of the paper. We group into these values
Paper - standard 20# laser/copy paper
Heavy Paper - 24# laser/copy paper
Color - The colors available for the given type/weight.
Lamination

Laminating your play money substrate will add durability to your play money items. Our process first laminates the entire sheet of the selected substrate, then the items are sliced into individual items. As a result, the pricing of lamination will depend on the size of your play money item.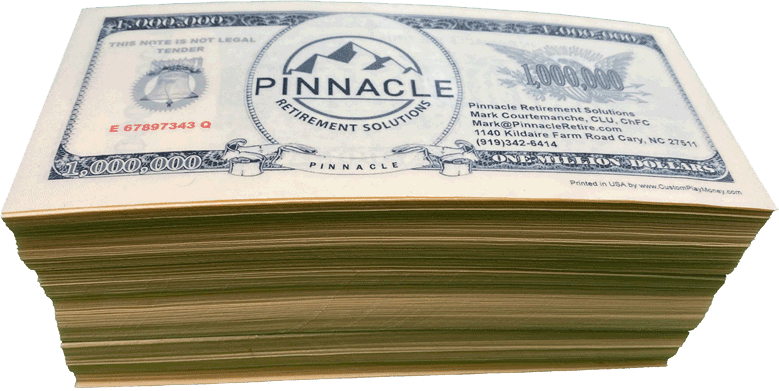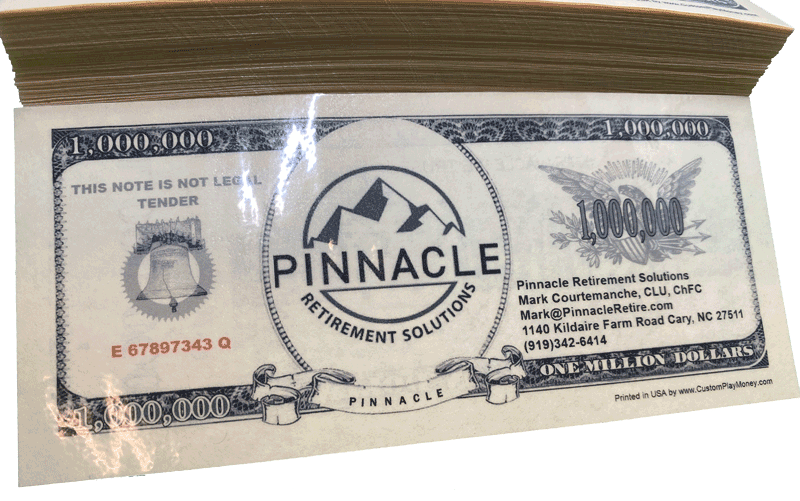 Embossing

Embossing is a physical impression left on the printed substrate after striking the substrate with a embossing die. This is mostly used as a security feature to ensure the authenticity of your play money item when used for an application requiring duplication preventative measures.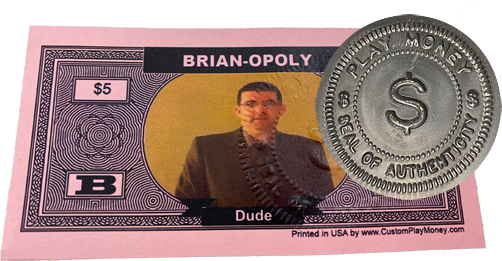 Physical stamped embossment.
Printed Proof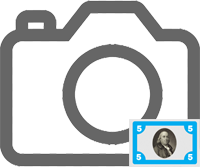 Sometimes its hard to picture what your final product will look like. Select the Printed Proof option for each denomination you would like us to create a single instance of and take a picture (both sides if 2 sided) for you to approve before we run a complete print run.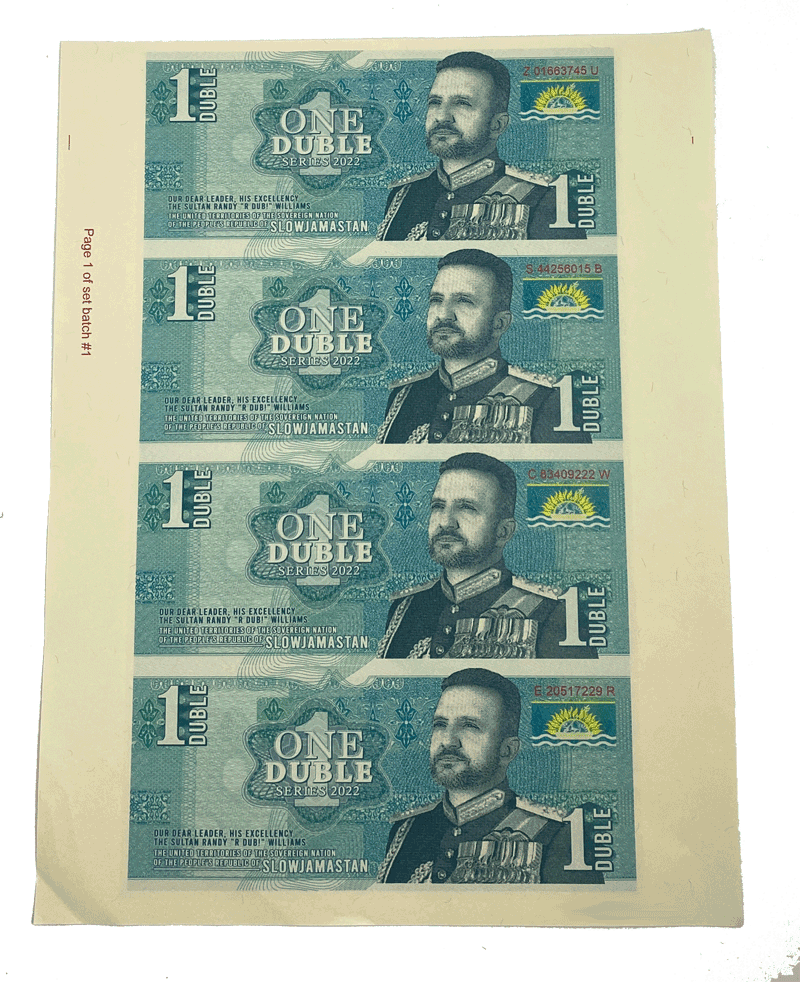 Front Side Proof Page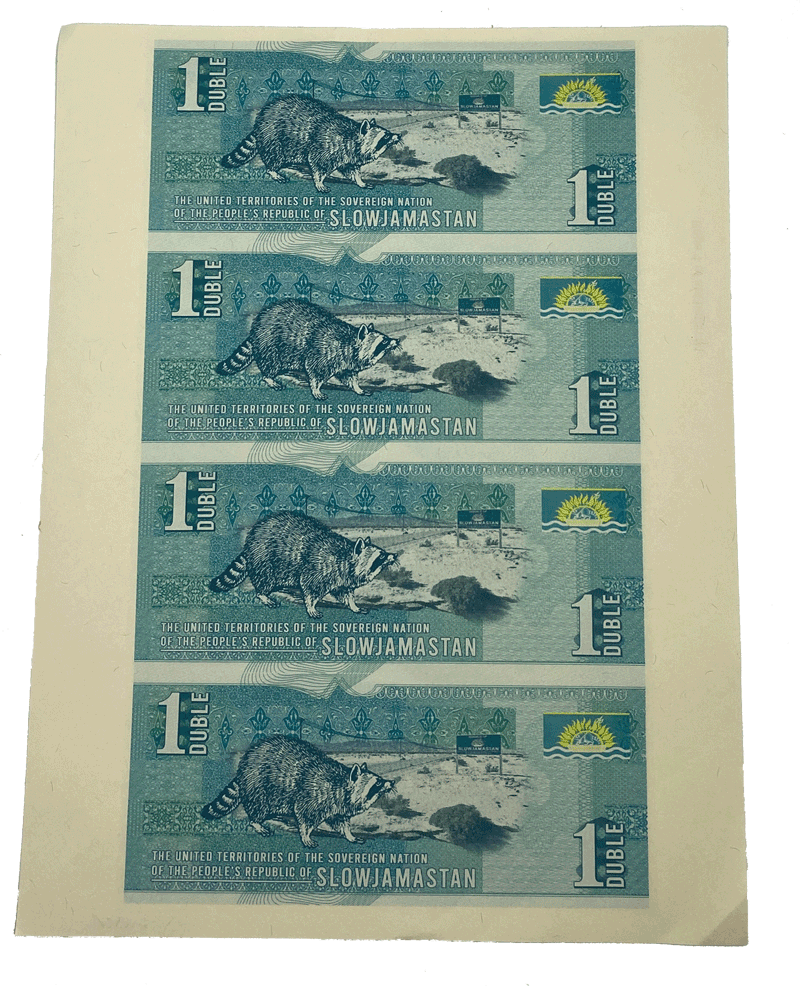 Back Side Proof Page
Marketing Message
By default we print our domain name in tiny print on the lower right of each item in your order. This helps getting our name out there, and in turn allows us to price our products at such reasonable rates. You can either completely remove this text, or replace it with your own message for an additional price.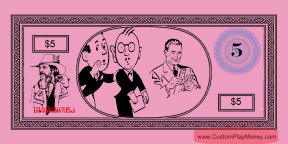 Item Slicing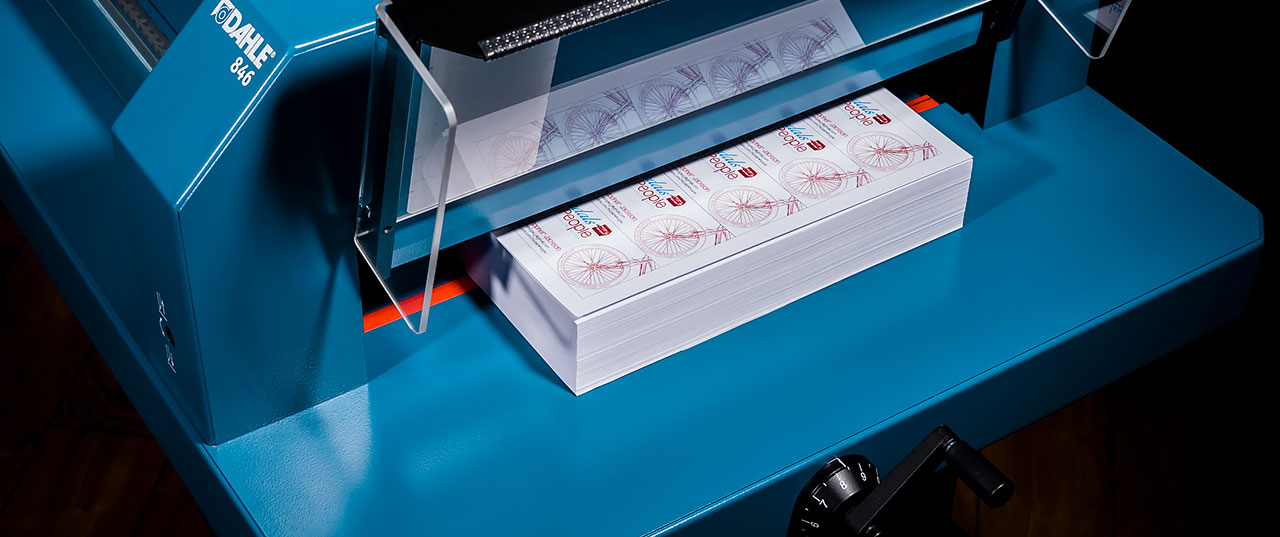 By default we will slice the sheets of your item printed on your selected substrate into individual items. We utilize a highly efficent German enineered stack cutter to slice up to 250 sheets of 20# paper at a time. If you desire to save some money on your order you can opt out of this option and slice the items yourself. Note, stacking will not be available if we do not slice your bills.


Turn Uncut Sheets into individually sliced items ==>
Item Corner Cutting

Most play money items come with 4 square edges on each item, the exception being any card based product such as trading cards which have rounded edges. You can choose the curve to your edges for any denomination, in which we will corner cut all denomination items with our professional corner die cutter. Additional charges apply.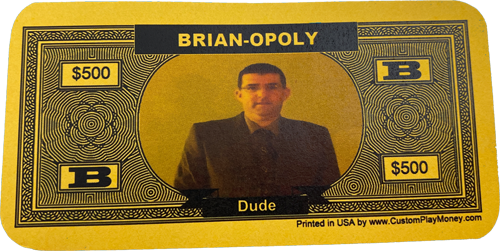 Choose default square corners or choose the angle of corner cut.
Stacking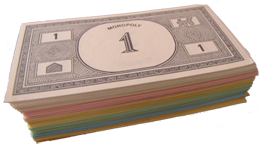 Your play money order is made of of one to many denomination values. By default you would tell us how many of each denomination you want in your order and we would ship the finished product together in no particular order. You can also choose to group your denomination in stacks of denominations, and configure how many denominations are in each stack, as well as how many sets of these stacks you want. Because we have to sort the sliced items into these stacks, there is a additional charge for this option.
Components
Components are what create the image that is on your play money substrate. Components have two classifications - Rendered and Physical Items. Rendered components are directly printed on the play money items substrate, while Decorations are existing physical items that get adhered to the substrate.
Available Components
Component
Type
Properties*
Standard Use
Example
Text
Rendered
Font size, alignment, color, orientation
To display any free form text desired
Your Company Name Here
Image
Rendered
Your image or one from the Image Library
To display any image
Serial Numbers
Rendered
All Text Properties
Random or Sequential serial numbers
Pattern of Serial Number
To track the specific instances of each play money item.
LB 95654235 W
Stickers
Physical Item
We carry various sizes and shapes of stickers. Some are purely decorative, while others are special like sratch off stickers which are meant to cover areas to be revelaed.
Create reveal area, add holographic security sticker, or for decoration.
Denomination
Rendered
All text Properties. You can spell out in English the denomination amount and currency type or display it numerically.
To display the denomination amount on your item


Shape
Rendered
Shape type(square circle), file and border styles.
Shapes are typically used to draw patterns on a play money's surface. The example to the right shows a rectangle shape used to give a starburst pattern to a items surface.
QR Code
Rendered
Encoded Information in QR Code
Used to allow mobile phones to easily obtain information about your products, web site, contacts, and any other common data usage.
* All components share these properties
Position - where on item surface it is drawn
Size - how large the component is on the items surface
Clipping Mask - How the component is clipped by elements of the style. For example, the presidents window.
Security Features
There are instances of applications of our play money products where preventive measures need to be taken to prevent duplication of your items.
Security Paper - Choose a security paper which will prevent photocopies of your play money items.
Serial Numbers - Print serial numbers on each item and receieve a file of these serial numbers to track their use.
Embossing - Put a stamped physical embossment on each item that would be cost prohibitive to fake.
Delivery Types
You can have CustomPlayMoney.com print/slice and ship your finished items, or receive a electronic PDF file of your items.
Print/Sliced/Shipped Option: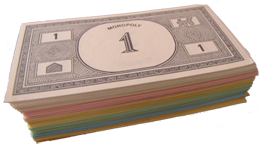 Stack Of Bills Printed/Sliced and shipped to your location
PDF Option: